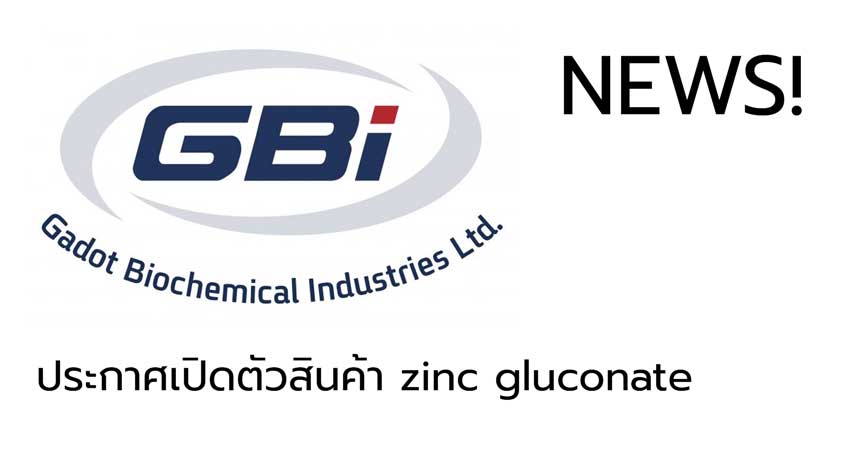 Zinc gluconate is the new ingredient offering from Gadot Biochemical Industries, the global leader in mineral ingredients
Zinc is the go-to immune-support mineral and is also an essential element for human health.
Several studies have linked zinc consumption with more effective immune function. In addition, zinc has been shown to support other physiological processes such as cell growth, wound healing, assists in the utilisation of vitamins (E and A), protein synthesis and the proper functioning of hormones (insulin, growth hormones and sex hormones).
Ohad Cohen, Chief Executive Officer of Israel-based Gadot Biochemical Industries, explained the critical need for consuming zinc every day: "A daily intake of zinc is required to maintain a steady state because the body has no specialised zinc storage system."
"Numerous studies have shown that zinc deficiency can result in many wide-ranging conditions, such as eczema, hair loss, mental illness, male impotence, impaired wound healing, anaemia, post-natal depression and nerve damage, among others. One way of discerning zinc deficiency is the development of white spots on fingernails."
Zinc gluconate is made with gluconic acid, which is a strong chelating agent. Other benefits of Gadot Biochemical Industries' new zinc gluconate include high solubility, ease of processing, and a high content of zinc.
"High solubility is an especially attractive trait of zinc gluconate when developing functional beverages and for food fortification, especially in the immune category, as well as in dental and personal care products," Cohen added.
Zinc gluconate from Gadot is Halal and Kosher certified.
With more than 50 years of experience in developing innovative products tailored to the unique applications of each customer, Gadot Biochemical Industries offers a range of citrate-based minerals for various applications such as dietary supplements, dairy products, sports drinks and beverages.
Gadot Biochemical Industries has earned a worldwide reputation for producing high quality bioavailable products. To many of its customers, Gadot has become a strategic supplier and partner.
More than 95% of Gadot's production is exported worldwide to leading companies in the food, beverage, and nutraceutical industries.
Tinnakorn is a Gadot's exclusive agent in Thailand. We are a major chemicals distributor, focusing on food, pharmaceutical, personal care, construction, textile, shoes and cushion industries since 1987. We manage stock and distribute to all regions in Thailand.
reference:
https://www.nutraceuticalbusinessreview.com/news/article_page/Gadot_Biochemical_announces_launch_of_zinc_gluconate/168936/